During National Rehabilitation Awareness Week, we pause to recognize the excellence of our therapists. Physical Therapists, Occupational Therapists, Speech Language Therapists and Nurses all work to help people overcome obstacles and accomplish the daily activities we do every day but tend to take for granted.
How can therapists accomplish what is needed when a patient needs to receive therapy at home? Many who are used to the big equipment in a therapy gym often don't know how therapists adapt therapy to very effectively treat people at home. Home Health therapists have a unique ability to use common household objects for the patient's therapeutic gain at home. Here are just a few creative ways therapists obtain amazing results with patients in the home setting.
Picnic Cups  
are useful for training patients to increase leg strength by encouraging them to step higher, to improve walking balance and to improve the sense the of where feet are while walking. The cups are placed on the floor and the patient walks through or over the cups in an obstacle course, with the mapped path set up to match a degree of difficulty individualized to the patient's abilities.
Aerobic steppers 
 and short wooden boxes are useful as a starting place for learning to navigate curbs, thresholds, and steps before advancing on to higher surfaces such as outdoor curbs and stairs.
Yoga stretching strap with loops 
are helpful to place around the leg while lying down on one's belly, to stretch the leg into a more flexed position. This is useful, for example in improving a person's knee range of motion after surgery.
Knee extender
is portable and easy to bring to patients for treatment at home. The device is used to extend the knee to 0 degrees, an important goal after a knee replacement.
Balance foam creates instability
to challenge balance. Therapists work with the patient on movement while standing on the foam to improve balance and reduce the risk of falling.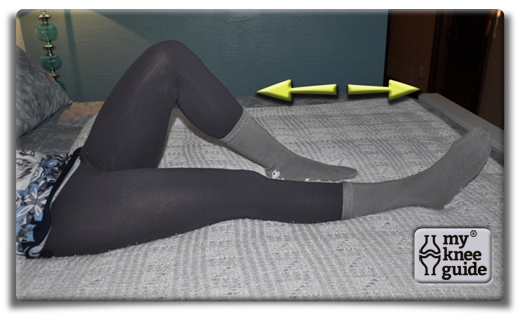 Furniture movers provide a smooth gliding surface and prevent drag resistance against the underlying surface caused by fabric on sheets or bed covers when performing exercises while lying down
Resistance bands are light weight and portable to use to improve muscle strength of arms
and legs and may be used alone or along with weights for therapy.
The most important benefit of therapy provided at home is providing therapy in the setting where a person lives. (Click on the blue words for additional information).
If a person is at risk for falling or has limited strength and mobility, the kitchen, bathroom, narrow walking paths steep stairs with shallow treads all offer potential hazards and increase the potential for an injurious fall.
Therapists provide a critical eye and make recommendations for adjusting the set-up of a room and how to move through the home environment to improve safety and prevent falls.
Health Calls Home Health Agency's team of rehabilitation specialists are talented, compassionate, patient, and have tremendous character. We honor the work they do every day to improve the quality of patients lives which supports people to stay where we all want to be: home!